קריאת קודש מהרה״צ רבי שמעלקא בידרמן שליט״א מלונדון
For everyone to adopt a family in ארץ ישראל for קמחא דפסחא.
הצדיק רבי שמעלקא בן הזקונים של אביו הקדוש, ואחיהם של הצדיקים למשפחת בידרמן
Needs your help in these trying times with a great critical campaign he is running!
Besides the Zechus you will have saving families in ארץ ישראל, your name will be given to all the holy Biderman brothers for a ברכה for whatever ישועה you might need.
(After donating one of these packages, please add your name for a ברכה to be given to the holy Biderman brothers down below)
The desperate families in ארץ ישראל are looking up to us for help with קמחא דפסחא.
Until now, devoted Askonim will go out and travel around America in order to collect the funds needed to help עניי ארץ ישראל with basic Yom Tov needs.
Unfortunately now due to the world epidemic COVID-19 this is not possible, and the families are feeling hopeless and are pleading for our help to be able to make Pesach this year.
In this critical time, with the blessing of this holy Tzadikim לבית בידרמן שליט״א, their brother רבי שמעלקא בידרמן שליט״א אב״ד לעלוב in London, is taking the lead in helping this great cause.
This Tzadik has taken upon himself to run this project personally and is devoted to help this campaign succeed.
He will also send all the donors names for ברכה to his 5 holy brothers who are known for their special ברכות and תפילות for the many people who come daily to their door for a ישועה.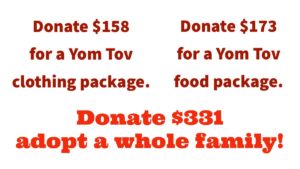 'Tomchei Tzedaka' will be processing your donation today and will distribute the funds the next day according to the specific guidance of הרה״צ רבי שמעלקא בידרמן שליט״א.
Your donation will go from your pocket directly to the families pocket!
Please! take this unique and rare opportunity! To care for our suffering brothers in ארץ ישראל and adopt a family in desperate need, and be זוכה to special ברכות from these holy Biderman brothers.
Donate $158 for a Yom Tov clothing package.
Donate $173 for a Yom Tov food package.
Donate $331 and adopt a family!