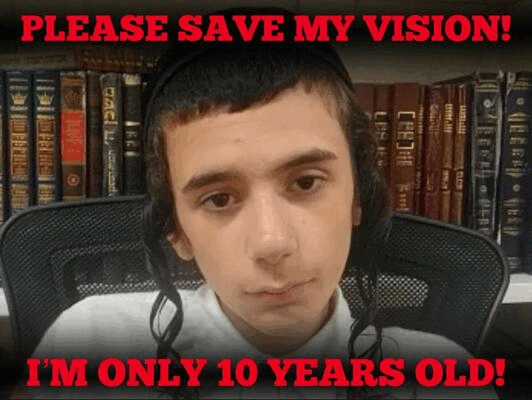 We have reached the halfway point!
Dear brothers, we are the parents of two children B"H. Our oldest son Moishe was completely healthy and normal until…one day at the age of eight, he suddenly contracted Ataxia, a genetic disease that attacked his brain, causing loss of functionality and eyesight, and eventually death Ch"v!
OUR LIFE HAS COME TO A PAUSE!
We ran from one doctor to another, in and out of hospitals, trying to stop this disease. We found that this disease has NO CURE!
WE WERE DEVASTATED! YET GRATEFUL HE IS STILL ALIVE WITH US!
Now Moshie is already 95% blind! The doctors advised us to keep him home, as he will soon need a wheelchair and will not live long!
WE DID NOT GIVE UP!
We found a private doctor that tried new treatments, which seem to halt the deterioration B"H.
These constant tests and treatments cost a fortune and are not covered by any insurance!
WE MUST CONTINUE THESE SPECIAL TREATMENTS!
THIS IS MOISHIE'S ONLY HOPE!
PLEASE! I beg of you! Help us save our precious child! He wants to live just like his brother! Please help us not give up on Moishie and give him a chance to live!
Donation Hotline : Call Now (732) 344-4494
Campaign #: 10581